Beth Israel Medical Center eye surgeon Dr. H. Jay Wisnicki just returned from Kunming China, where he volunteered for a medical mission with ORBIS International.
Working mainly on the ORBIS DC-10 – the world's only flying eye hospital – Wisnicki, a pediatric ophthalmologist, performed sight-saving surgery on Chinese children while teaching his skills to a large group of host-country doctors.
Working with the international humanitarian organization, Wisnicki spent a week aboard the high-tech flying eye hospital, teaching his host-country counterparts surgical procedures for the treatment of strabismus (crossed eyes) in children.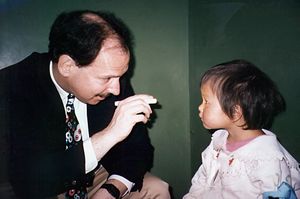 "It was sort of like being on a NASA mission," said Wisnicki, "working inside the plane with everything being monitored by all the video cameras. It was great."
The fully equipped operating room is monitored by strategically placed video cameras, allowing visiting medical personnel to observe the surgical procedures while interacting through the live audio feed. While one patient benefits from the surgery, hundreds of doctors and nurses benefit from the training and educational skills passed on.
Fighting blindness through education is the basis of all ORBIS medical missions.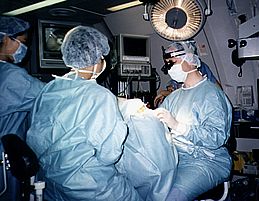 "I was impressed by the amount of advance planning done by ORBIS," commented Wisnicki, who heads the Ophthalmology Department at Beth Israel. Each medical program is specifically tailored to the developing country's needs and training requirements.
Wisnicki spent his first day at a local Kunming hospital, screening over 50 young patients for curable eye problems. Working along side him were members of the international traveling staff of ORBIS: staff ophthalmologists, nurses and the medical director.
"ORBIS really creates awareness in the country," said the doctor. "Without proper treatment, some of these children literally wouldn't be able to see in a few years. It was gratifying to be able to teach so many Chinese doctors the skills that they can continue to use long after we have left."
Almost 20,000 patients have had their sight restored on the ORBIS plane. Through these educational medical programs, ORBIS doctors have also taught sight-saving skills to 32,000 doctors and nurses in 71 countries.
This was the second time ORBIS has visited Kunming. This was Wisnicki's first time volunteering with ORBIS.